Part number : 985101W000 (98510-1W000)
MOTOR & PUMP ASSY-W/S WASHER 
Application model : Hyundai i40
Before 2016. Jan. 10, the old numbers were as below:
985101C100 Hyundai Click
985102J000, 985103E000, 985103E000 Hyndai New Santa Fe
But now all those numbers changed to 985101W000.
2019. May. 7th – Here is update about 98510-1W000 : now 98510-2J500 supplied instead of 98510-1W000. Please be noted.
The below photos are taken in my Studio Box!
Last year, one of our USA buyer ordered a lot of 98510-1W000.
He told me that due to the strong blizzard at that time, there was a high demand of windshield washer motor.
DENSO Poongsung is a original manufacturer of this item.
If you order Poongsung brand(not MOBIS brand), you will find that the part is just exactly same.
I just took a photo of 98510-1W000 which is Poongsung brand.
Same product, the price is almost 50% cheaper.
But unfortunately, this part is no longer produced in Poongsung Brand.
The supplier informed me the factory(subcontractor) of Poong Sung has been bankrupted. So, now I can buy only in MOBIS brand :/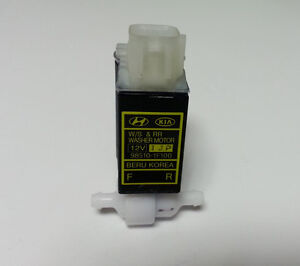 Someone told me that the other numbers(Such as 98510-1F100,985104D000,985102V100) in Poong Sung is still available and it's alternative.
But it looks very differently.
Here is a photo from e-bay

If someone know if those number are available to use for 98510-1W000, please give me a comment 🙂