935801E000 SWITCH ASSY-P/WDO SUB 93580-1E000 / Hyundai New Verna
It is a window open/close switch.
Net weight itself : 0.026kg
Net weight with plastic bag : 0.027kg
Gross weight with box : 0.037kg
In the label indication, it's produced by LS Electronics.
(About the manufacturer, I posted here: https://koreapartsinfo.com/2018/10/22/ls-automotive/ )
But I see another logo on the part : DECO
DECO is the brand name of Deaseong Electric(LS Automotive's old name)
Sometime I'm surprised that even this small switch has a part number.
Those kinds of switches don't affect to engine function of car but it will be very uncomfortable if it's damaged.
Some month ago I pushed this button to open a window, but it didn't work. All windows were not moving at all. I thought all window motors are broken. I was calculating how much the cost of fix 4 of window motors.
But I found that it was a problem of window motors, nor the switches.
I pushed "window lock"button by accident and did not know it was pushed.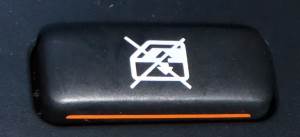 Good that I found it before I go to a service center.